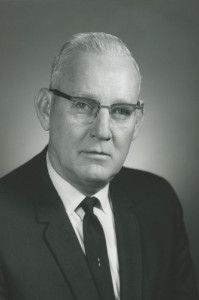 "As a favor to his friends, my father volunteered as timekeeper for all GISH football and basketball home games for over two decades. As a result, my siblings and I have fond memories of Memorial Stadium and the GISH gymnasium."
- Lanny Martin

 
The

Memorial Stadium Campaign Lead Gift

from Mr. Lanny Martin is a lasting tribute to his late father Jack Martin.
A life well lived for the betterment of others, Jack Martin left the world, and especially Grand Island a better place. He was raised on a farm near Waverly, Nebraska and took his hard work ethic with him to the University of Nebraska at Lincoln and into his successful teaching and business careers.
Jack and his wife, Lucile moved their family to Grand Island in 1945, the same year the original Memorial Stadium Campaign began. Jack worked for Grand Island Senior High as a vocational agriculture teacher. All six of their children graduated from GISH, Les ('49), Carol ('55), Dianne ('61), Lanny ('64), Tom ('69), and Janet ('70). Jack not only taught at GISH, but also served as volunteer timekeeper for football and basketball games for more than two decades. The program from the inaugural game played in Memorial Stadium on September 19, 1947 lists Jack as timekeeper.
Lanny Martin shared that his siblings spent time "helping" their dad keep time and, "During our years attending GISH, all of us participated in activities at Memorial Stadium. Whether it was marching band, pep club, football, track or graduation ceremonies, it was an important center of activity for the whole family."  
Later in his career, after leaving teaching, Jack led the Grand Island Production Credit Association and was co-founder of Husker Harvest Days. He also served as Grand Island's mayor in 1955-56, when the city received its first All-American City award and he presented a Key to the City to then Vice President, Richard Nixon in association with the city's honor. Jack was serving as president of the Grand Island Area Chamber of Commerce when the city received its second All-American City honor in 1967. He also served as an elder and a deacon of the Grand Island Presbyterian Church and was president of the Lions Club.  
Lanny Martin credits his parent's strong work ethic, value for education, and their devotion to seeing their children succeed, as the driving forces for assuring all of their six children were able to attend college. Lanny sees those as a critical factors in the productive lives he and his siblings have had.
Lucile, in addition to raising six children, served as a Sunday school teacher, and as an elder and deacon in the Presbyterian Church. She also spent many years volunteering at the St. Francis Memorial Hospital as well as with the YWCA serving in the Giggles outreach program which served disadvantaged 5th and 6th grade girls. Due to the great pride Jack and Lucile took in their belief in strong family ties, education, and serving their community, Lucile and her children established the Jack Martin Scholarship Fund at the Grand Island Public Schools Foundation twenty years ago. The family created additional scholarship funds including the Lucile Martin Dream Scholarships, over the years. Since 1998, the Martin Family Scholarships have been awarded to over 100 students.