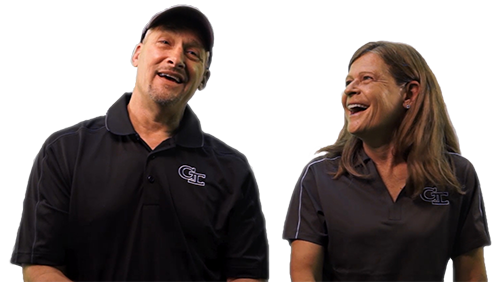 Tom Rathman
Honorary Chair, GISH Class of 1981
Tom is a Grand Island Senior High alumn, former football player and three-year letter winner at the University of Nebraska. He was drafted into the NFL in 1986 and is a two-time Super Bowl Champion. His professional playing career spanned nine years. After retiring as a player, he began his coaching career at the high school level. He has been a NFL running backs coach for 14 seasons and is currently coaching running backs for the Indianapolis Colts. Tom is proud of his Grand Island roots and speaks fondly of his time spent as an athlete in Memorial Stadium as well as how his education and teachers prepared him well for his successful career.
Holly "Yencer" Rathman


Honorary Chair, GISH Class of 1981
As an Honorary Chair, Holly is excited about how progressive Grand Island is and she cannot wait for students and community members to participate in activities at the renovated Memorial Stadium. Holly is a Grand Island Senior High alumna and a four-sport athlete. Holly is a former athlete and graduate of the University of
Nebraska. Holly and Tom have three daughters and reside in California. The Rathman's are advocates of public schools and are proud supporters of our Memorial Stadium Campaign.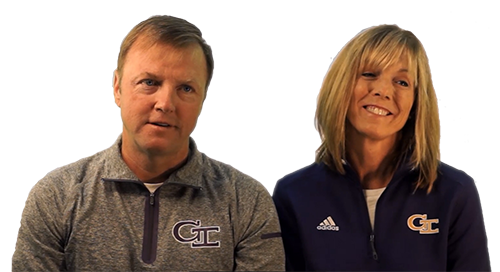 Jeff and Jane Richardson
Campaign Co-Chairs
GISH Class of 1983
Jeff is a Graduate of Grand Island Senior High class of 1983. He graduated from Louisiana Tech University and was drafted by the Cincinnati Reds in the 7th round of the 1986 free agent draft. He was voted team MVP in 1987 and All-Star MVP for Tampa and became the fastest player to 100 hits. After an injury in 1995 forced his retirement, he spent 3 years managing in the minors winning the Carolina League title in 1998. He retired from minor league coaching in 1998 and then led his alma mater Louisiana Tech University to their first winning season since 1987. Jeff coached at Louisiana Tech for four years before resigning to manage his own successful businesses in Grand Island. Jeff is a proud Grand Island Senior High graduate, an avid GISH fan, and is a champion for community progress and development in Grand Island. 
Jane was born and raised in Grand Island and is a graduate of Grand Island Senior High class of 1983. Jane graduated from the University of Nebraska with her teaching certificate and taught for two years in western Nebraska. She graduated from University of Nebraska Law School in 1992. Jane and Jeff have three daughters and consider Grand Island an optimal family setting. Her family, civic duties and their three businesses keep her very active in the community. She is excited to see the renovated Stadium serve many community members in varying activities.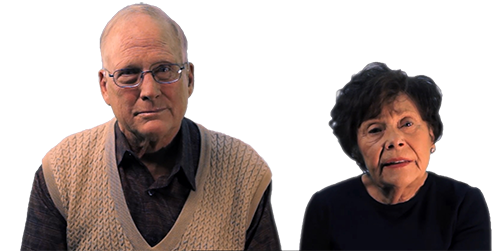 Jim and Maureen Kahrhoff
Campaign Co-Chairs
GISH Class of 1960 and GICC Class of 1960
Jim is native of Grand Island and a Grand Island Senior High graduate class of 1960. Jim is also a graduate of University of Nebraska graduating in 1964. He joined the Army in 1965 and served in Vietnam as a Captain assigned to "OLD GUARD", 2BN 3 RD infantry 199 light infantry Brigade. He received the Army Commendation Medal, Bronze Star with Oak Leaf cluster and Air medal with Valor. He is proud of his service to our country and is passionate about preserving and honoring those who have served and especially to those who made the ultimate sacrifice. Jim is proud to support the Memorial Stadium campaign because of the stadium's tribute to the fallen of World War II and the ability of the renovated stadium to serve the community for decades to come. Jim enjoys his retirement after building a successful Insurance career, in which he always made it a priority to give back to the community. 
Maureen is a Grand Island native and a graduate of Central Catholic High School. Maureen has special memories of the student activities she participated in at the stadium while she was in school, but she is most fond of her memories of watching her children and grandchildren enjoy activities at Memorial Stadium. It is especially important to Maureen for future students and their families to have a facility that not only host activities, but to have the infrastructure to see those students excel, preparing them for strong futures.
Project Leaders
Tom & Holly Rathman, Honorary Chairs
Jim & Maureen Kahrhoff, Co-Chairs
Jeff & Jane Richardson, Co-Chairs
Will Armstrong, GISH Booster Club Chair
George Ayoub, GIPS Foundation Alumni Liaison
Ron Depue, GIPS Foundation President
Kelly Enck, Board of Education
Jeff Gilbertson, Grand Island Senior High Principal
Dr. Tawana Grover, Superintendent, GIPS
Kurt Haecker, GIPS Foundation Board Emeritus
Virgil Harden, Chief Financial Officer, GIPS
Bonnie Hinkle, Board of Education President
Leigh Lillibridge, Campaign Coordinator
Dan Petsch, Director of Building & Grounds, GIPS
Pam Price, GIPS Foundation Board Member
Kirk Ramsey, GIPS Foundation Vice President
Jack Sheard, Marketing & Communications Coord., GIPS
Terry Sheen, GIPS Foundation Treasurer
Traci Skalberg, GIPS Foundation Executive Director
Cindy Wells, GISH Activities Director
Grand Island Public Schools Foundation Board
Vikki Deuel, President
Zach Butz, Vice President
Tom Gdowski, Treasurer
Traci Skalberg, Executive Director
Connie Allen
Bianca Ayala
Kathie Degen
Todd Enck
Jenna Grenier
KC Hehnke
Vince Hernandez
Kim Jensen
Audrey Lutz
Erin Marsh
Pam Price
Roger Schmidt
Dr. Rob Winter